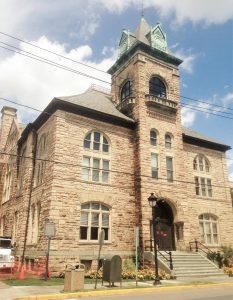 Built in 1890 with an addition added in 1934, the Monroe County Courthouse stands adjacent to courthouse square on the corner of 7th and Monroe Streets in Stroudsburg, PA. The limestone structure was erected by the Carlucci brothers of Scranton, PA. The Carlucci brothers were nationally recognized stone masons who also erected the Ellis Island Landing station in New York during their career 1.
Richard Pierce Builder, Inc. is a Stroudsburg based contractor skilled in historic preservation work and commercial construction. The company's resume includes among other projects, installation of a new roof on the courthouse, renovation work on the Monroe County Bar Association building, renovations to the Little Bethel Church, an African Methodist Episcopal (AME) Church erected in 18682 and numerous commercial buildings in the Poconos region of PA.
Renovations to the courthouse require replacing the entire copper cornice and rain gutter system. The perimeter of the building at the roof line is wrapped in a beautiful copper cornice approximately 18" high. The existing cornice, while not easily viewed from the street due to its patina finish is significantly deteriorated after more than 120 years of life.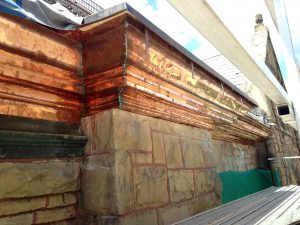 The new cornice provides everyone with a great view of the new ornate finish some 40 feet above the ground. People see the workers busily erecting scaffolding and covering courtroom windows and wonder what is happening. Citizens and county employees, attorney's and even Judges walk by and look skyward to get a glimpse of the craftsmen at work.
The process requires disassembly of several courses of slate from the roof, removal of the existing gutter and cornice, and repair and replacement of framing timbers that decayed due to water infiltration over the years. When disassembly and framing repairs are complete a new reglit is cut into the limestone to accept the bottom flange on the cornice. New cornice sections are fit and fastened to the building. New gutter brackets and gutters are mounted and soldered, flashing and roof slate are reinstalled and the crew moves on to repeat this simplified explanation of the process on another section of the building.
Behind the scenes at the RPBI office and shop building many hours of preparation, drawing, protyping and fixture building took place. The copper cornice was fabricated using copper sheet material by a company in Massachusetts. A courthouse plot plan identifying each piece of copper was drawn and each piece of copper was labeled with its location on the building. Then the painstaking process of cutting the copper corners, fitting them into the fixtures and soldering corners took place. This process enables RPBI to bring preassembled sections to the job-site and lift them into place. While not all pieces can be preassembled this process does reduce onsite soldering.
Keep in touch with us and watch 21st century craftsmen preserve our history and heritage.